Getting the right price on a given day for a specific PPA is one of the most challenging aspects of this dynamic and fast-evolving market. The pricing of PPA projects can seem obscure and even overwhelming for even the most seasoned PPA professional.
As a Fintech passionate about PPAs, Pexapark was determined to make PPA pricing and comparative analysis easier, offered in real-time and, very importantly, more transparent.
This article will provide insight into Pexapark's newest PPA pricing software, PexaQuote. Some of the key issues that will be discussed in the article will include:
What PexaQuote can do for you on the PPA side;
How this software can assist you in getting better PPAs;
How it can ensure quicker transaction; and (best of all)
How PexaQuote can save you €€€.
Our Context:
The Pexapark team dedicated itself to building a quantitative pricing model as part of our advisory offering. Our work over the last two years has included over 40 PPA transactions in just the past year. Our monthly analysis of market prices was hugely successful and we gained 1500 subscribers in less than three months.
This experience has validated our knowledge of the PPA market.
Our belief is that PPA transactions need to be smoother and, most importantly for the market, transparent. Market players should be able to know what the current price for PPAs is and, as such, what fair market value a given PPA should have. Transparency makes for better business in any market.
In our experience, the big discussion in the industry has consistently been this: how can one maximize its PPA?
Why is Preparation Everything?
We believe in the importance of preparation of a PPA, particularly on the quantitative side. Why do we attribute so much importance to the preparation side of a PPA? Well, consider the complexity of the PPA process. Our version of an overview of the PPA process should demonstrate this complexity, a process which should be familiar to the PPA professional:
As can be clearly seen in the picture above, the process can entail several hurdles and challenges. Time is possibly the biggest challenge of all, whether it be the time it takes to obtain a thorough overview of the market or, crucially, the time 'crunch' that arises when deciding which PPA to finally choose.
Cost is another challenge when setting up a PPA, of course, especially when taking market volatility factors into account. These are often due in no small part to uncertainties currently inherent in the market.
It's for these and other reasons that we at Pexapark decided to invest our time and resources into developing software that would ensure a smoother and thus, more transparent PPA process.
A Reminder on PPA Pricing
For the purpose of this article, PPAs are priced according to a standard structure based on the Theoretical Baseload Price (itself based on the forward curve, see below) with discounted costs for risk elements taken into account for pricing, namely:
Hourly profile cost;
Liquidity cost;
Curve risk; and
Profile and volume risk
'Price' or 'cost' factors are expected values derived from static price curves, for example. 'Risk' factors reflect issues such as price adjustments against potential losses due to price fluctuations. These price/cost and risk factors together help ascertain the PPA bid price.
PexaQuote - A Visual Guide
Here are a few screenshots that should provide a visual overview of the PexaQuote interface and the software's many offerings. We can commence with the landing page in the instantly recognizable Bloomberg-type layout:
A specific country/PPA market can be automatically chosen from the drop-down menu in the top-left of the screen:
Here, the drop-down menu shows the recently added markets of Poland and Portugal (with more yet to be added, of course):
The exact renewable technology (solar / offshore wind / onshore wind) being requested can also be specified in the drop-down menu at the top-right of the screen:
The PPA tenors (ranging from 1 to 15 years) can also be selected:
The PPA product type/structure can also be selected below the market/country specified. These comprise three acronyms, namely BLA (Baseload Annual), BLM (Baseload Monthly) or PAP(Pay-As-Produced):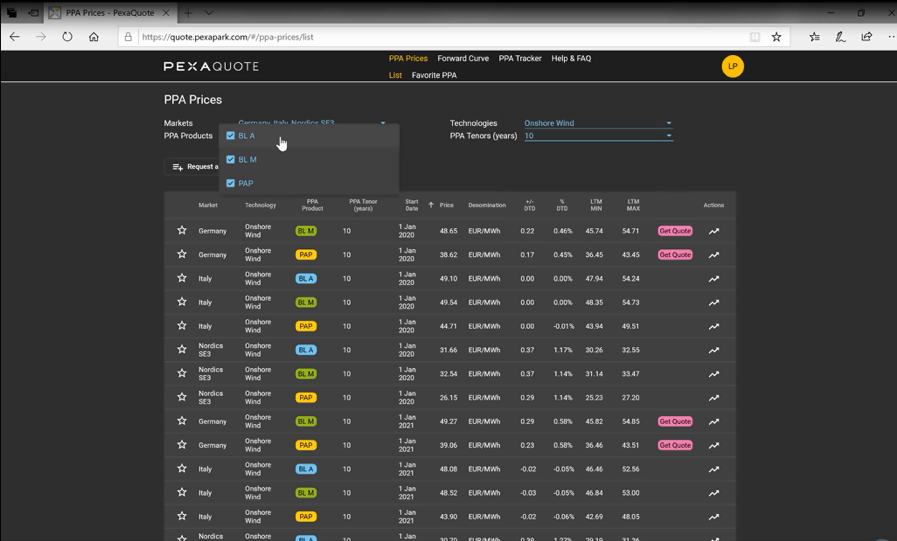 We can take the first line of this screen by way of example. It shows that the market in question is Germany and the technology is onshore wind, with the product being a Baseload Monthly (BLM). This PPA's tenor is for 10 years, commencing January 1st 2020. Its current fair market price is 48.65 EUR/MWh, which is a 0.22 EUR rise from the previously quoted price. The LTM MIN and LTM MAX prices show what were the lowest and highest prices for this particular PPA during the past 12 months, namely 45.74 and 54.71, respectively.
Another nifty feature that can be viewed on PexaQuote is that of 'Get Quote' by which you as the client can contact us as the intermediary to put you in touch with the offtaker offering the given PPA, so that they can then send a quote, should the offtaker be so inclined. This feature itself can be a huge time-saver for the PPA professional seeking quotes for PPAs from offtakers.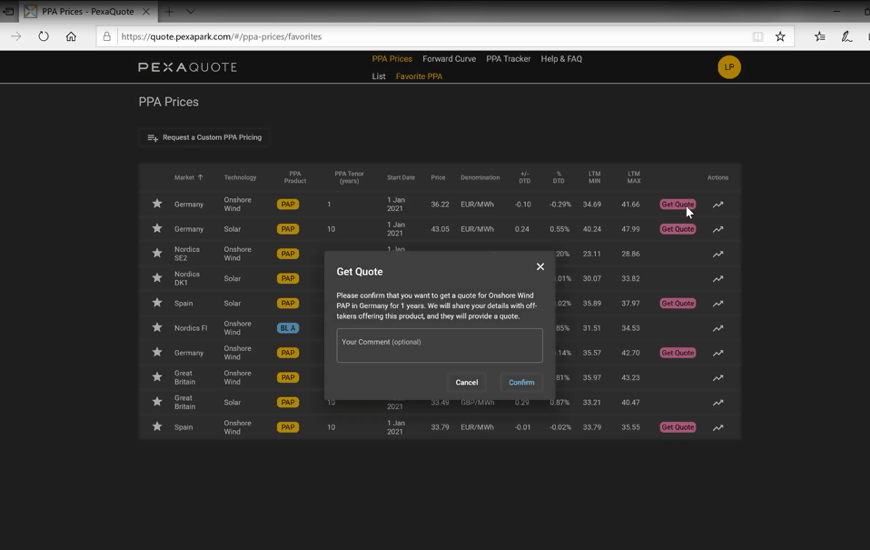 PexaQuote also provides the forward curve, from which PPA prices can be derived/calculated:
Forward curves can be seen in terms of year periods, as seen here:
Forward curves can also be assessed in terms of granularity (i.e. monthly or yearly):
This data can also be exported into tabulated format:
The importance of the information gleaned from this forward curve data cannot be underestimated. After all, nearly all prices provided in the PPA market by utilities are based on a forward curve.
Use can also be made of the 'Help & FAQ' tab on the screen, which helps explain the terms that populate the various screens of the PexaQuote software:
A very handy and thorough explanation of the calculation methodology used in the software can also be viewed under the 'Help & FAQ' tab:
The 'PPA tracker' tab is also a helpful tool to keep the PPA professional informed of current PPA deals signed as they are announced in the news.
The Many Benefits of PexaQuote
Specific features of the PexaQuote software include:
Technologies Covered: The software includes pricing for solar and both onshore and offshore wind energy;
Instantaneous Pricing: Daily PPA prices that accurately reflect the market, as calculated by Pexapark's proprietary quantitative tool;
Instant Requests: Quotes on standard products can be instantly requested from leading utilities and traders;
Price Referencing: Prices quoted are nominal and can serve as firm basis during PPA negotiations;
Time Savings: Far less time is needed for price considerations, thereby saving literally weeks of market analysis;
Transparency: the PPA market is made more transparent due to greater real-time price transparency and availability; and
Wide Coverage: All major European countries are covered (namely Germany, Italy, the UK, Scandinavia, Portugal, Poland, Spain and France), with more markets being added continuously.
Comparative Analysis Made Easy
Comparative analysis between different PPAs in a given market segment is another very important feature of PexaQuote. For example, an overview of onshore wind projects in Scandinavia could be very helpful to the company wanting to secure a 10-year PPA for an existing or new wind farm project in that region.
The screen might show that there is no current appetite for PAP projects in Scandinavia, with only BLM and BLA projects available, as seen below: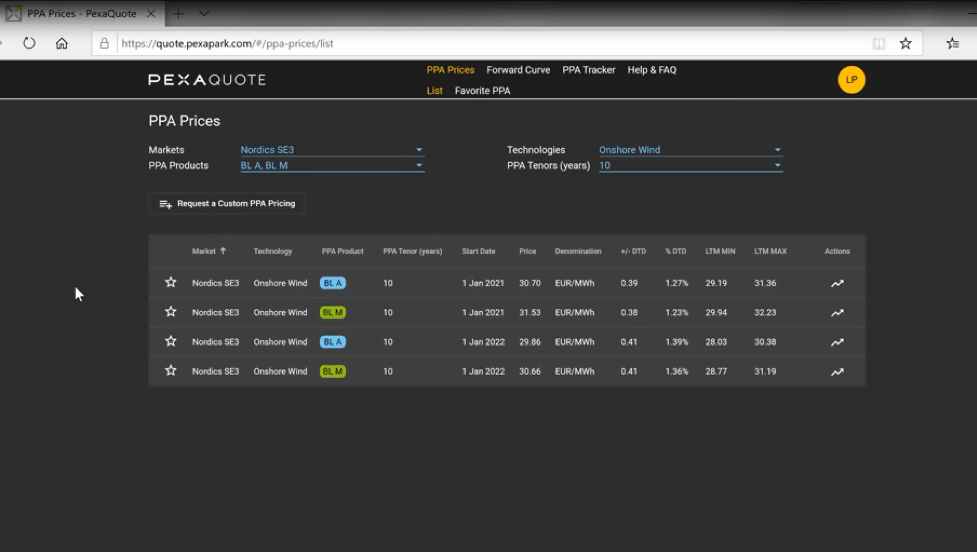 The above data is based on historic data for the given technology and region, i.e. wind farms in Scandinavia. This data is derived in part by our polling of leading offtakers in markets on a monthly basis, as well as by calculating aggregated traded prices on the exchange and bilateral trades from brokers. This helps Pexapark calibrate our pricing models on a consistent, ongoing basis.
A selected project will show both the production profile curve (in blue) and the annual hedge on a monthly basis (in yellow), and showing both included and excluded costs:
It should be noted that credit-related costs will need to be included by the user/analyst into their own project's costing.
The key advantage provided by the software for comparative pricing analysis is that of the difference in prices between two or more PPA structures that may be on offer.
The actual value spreads between structures on offer should provide a purchaser with insight into which of the options is better valued.
This mechanism alone can be an excellent indicator of inefficiencies between different offtakers and, thus, which option / structure to choose.
Other factors will also be important, of course, such as the duration (tenor) of the proposed PPA and COD date. For example, a project's COD delayed by a full year can result in lost value over time and, therefore, the right timing of the PPA is important.
Transaction managers and analysts can greatly benefit from these types of insights provided by the software. Ultimately, they will want to secure the optimal choice and optimal start date.
PPA Pricing Customization
Pexapark also offers you customized PPA pricing, based on project specific information you can provide us via the Pexapark platform. These include specifics such as the required technology, proposed PPA structure, the start date and other factors that can inform the customization:
The customization can be supplied by our team within a day or so. This can be highly useful for the client wishing to have greater certainty on the true market value of a proposed PPA contract on a precise date for a specific project.
Market Validation
A further source of pride for us has been the market validation of the PexaQuote software. For example, Bloomberg is already using the software for its PPA-related assessments, whilst the EEX is using this software for daily settlement calculations for ten-year products that the exchange is launching in Germany, Italy and Spain.
High-quality offtakers have also adopted the software for calibrating their prices and providing more accurate quotes in the PPA market. They also use the software as a form of 'second opinion' in their pricing quotes. It can also be useful for the simple purpose of reporting to management. Proving market alignment to management is made far easier with PexaQuote.
Three Major Reasons To Choose PexaQuote
Get A Better PPA Price
Consider the scenario: an investor, like any investor, wants to optimize their PPA price with an optimal fit in a given PPA structure. Using PexaQuote as their pricing analysis benchmark, the investor may choose an Annual Baseload PPA over a Monthly-Shaped PPA given the latter may have a better profile fit.
That decision alone could see an improved net return of up to approximately 0.20 EUR/MWh. When one compounds those savings across a ten-year, multi-gigawatt contract, then the true savings can be very significant.
Pexapark's COO makes this point when he points out that a 0.20 EUR/MWh saving for a 50MW wind farm could result in a 100,000 EUR saving accrued during the period of a PPA contract. As Luca states when considering cents saved per megawatt hour: "Every cent counts."
How can one ensure that a new project is fairly priced in terms of fluctuations in the market once all nitty-gritty details have been negotiated with an offtaker?
Daily quotes provided by PexaQuote will ensure that the purchaser is better equipped with the fair value of the contract at its most critical time, i.e. towards the conclusion thereof. Those insights make for a more savvy, insightful investor in a PPA project.
Therefore, unjustified deviations in market price fluctuations are avoided. The result is greater trust and consistency between parties during the entirety of the contract negotiation phase.
Lower Execution Costs
Consider the scenario: A 10-year wind PPA contract with a total contract volume of 1TWh is finalized in two months. There can be significant price fluctuations during the negotiation period.
PexaQuote will allow the purchaser to keep daily track of offtaker quotes across the wind market. This thereby ensures greater pricing consistency (read: stability) during the contracting period for their PPA. This alone could avoid 'slippage' costs of up to 0.15 EUR/MWh. Those too can be significant cost savings.
Time Savings
Consider the scenario: An investor may make indicative bids every week for the purchase of development projects with PPA features. Instant, consistent access to fair and accurate PPA market prices can help accelerate the bidding process by as much as two to three weeks. Cost savings will be achieved due to these time savings.
Even though quantifying time in cost terms is difficult to do sometimes, we all know that time is money. Many PPA professionals simply don't have the time to do continuous market analysis to get a handle on applicable pricing and other trends in the PPA market.
User-Friendly, Transparent Access
We have made the cost of access to the PexaQuote platform simple and transparent: essentially, access is costed according to the number of countries that a client wishes to have information on. Therefore, the client wishing to only invest in a single market will solely pay for access to that market's information on PexaQuote.
Our simple pricing structure for PexaQuote is just one more way of showing our commitment towards transparency in the PPA market.
For this and other information regarding PexaQuote, including rapid response to your bespoke requests, feel free to contact us at hello@pexapark.com. We can provide you with a white paper on how we price PPAs or walk you through the PPA process as per your experience and requirements on the PPA transaction side.