Pexapark is trusted by the world's leading companies
Understand market dynamics
Guide investment decisions based on comprehensive understanding of who the buyers, sellers and competitors are and insights into future market dynamics
Minimise investment risk
Build on our in-depth transaction experience to perform PPA due diligence for new acquisitions. Understand country-specific PPA risks and how to address them
Get in touch

Find out more about our Market Insight Reports

Fill out your details below and we will be in touch
Stay on the pulse
Leverage market intelligence combined with a PexaQuote subscription as part of a report bundle and view daily updated pricing data to monitor market activity
Get in touch

Find out more about our Market Insight Reports

Fill out your details below and we will be in touch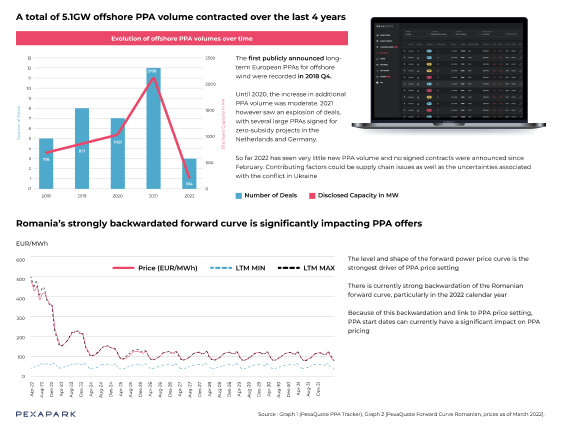 Develop your PPA sourcing strategy
Access credible market information prepared by our experienced analysts. Identify the optimal markets and sellers that best cater to your future energy demand
Get in touch

Find out more about our Market Insight Reports

Fill out your details below and we will be in touch
Market Insight Reports
Germany
Germany saw 23 publicly announced PPAs signed in 2022, ranking it number two across Europe and demonstrating how the country's renewable sector continues to go from strength to strength. Pexapark's German Market Insight Report provides the answers for its PPA market success and analyses its market fundamentals as well as the emerging PPA trends, helping you successfully navigate the upcoming German PPA market.
Spain
Keeping the crown as Europe's top PPA market for four consecutive years, Spain has flourished thanks to its excellent solar and wind resources, which have led to a mature market with very active corporate and utility offtakers. Pexapark's Spanish Market Insight Report summarises the country's PPA successes and sets out the market's dynamics in the face of growing corporate interest, helping PPA sellers and buyers recognise the latest developments and prepare for the next phase of the Spanish PPA market.
Italy
Italy's PPA market has benefited from high power prices making PPAs more attractive since 2021, leading to the announcement of 9 long-term PPAs in 2022. However, the country's complex zonal market design and lengthy authorisation processes have kept its PPA market from maturing at rates seen elsewhere in Europe. Pexapark's Italian Market Insight Report explains how the Italian government hopes to overcome these roadblocks, what role PPAs are expected to play in achieving Italy's ambitious renewables targets for 2030 and providing sellers and buyers the expertise to navigate the pitfalls of the market.
Insight Reports are available for over 15 countries and regions within Europe, and technologies including Offshore Wind and Battery Storage. Fill in the form below with the market of interest and we will be in in touch.